Well hello there. Today, I'm sharing a desert that is sure to please even the pickiest dessert lover. Ok, I don't know very many people who are picky when it comes to dessert, but I'm sure they are out there. This dessert is just a tiny bit different, though. It's full of ooey-gooey goodness!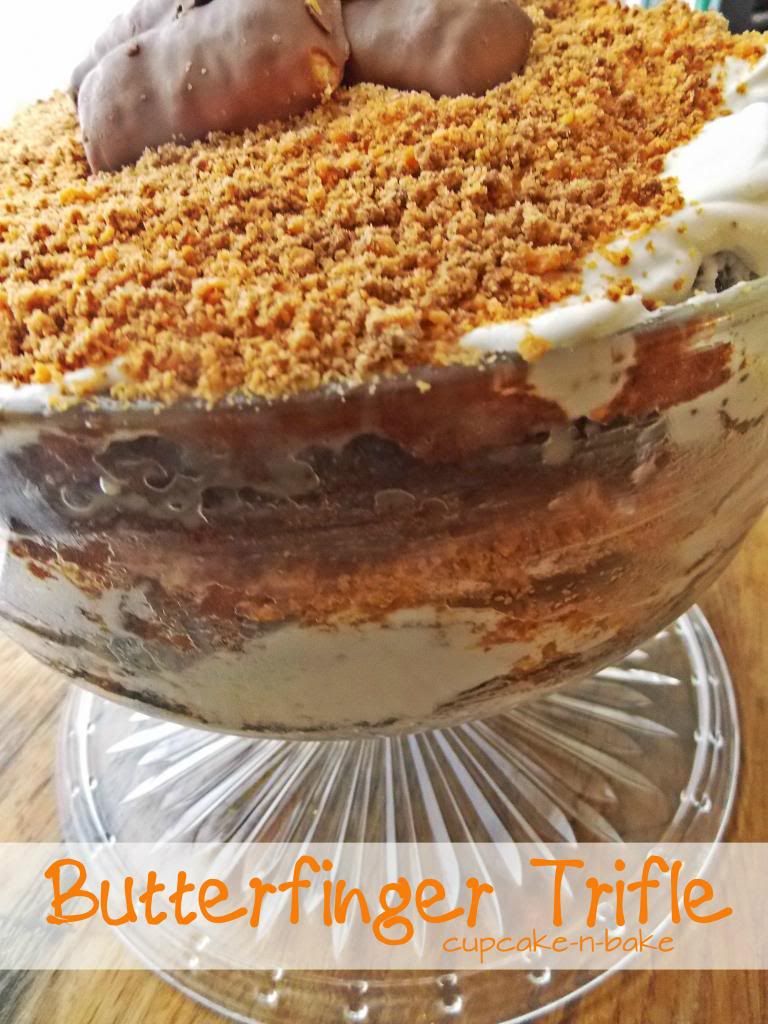 So, when I was growing up, my [huge] family used to have family gatherings all the time. No kidding. I mean we gathered for birthdays, random family reunions, and nearly every holiday. Of course, there was always an abundance of different foods and desserts to choose from. My aunt "D" made this Butterfinger Trifle, and it quickly became one of my favorites.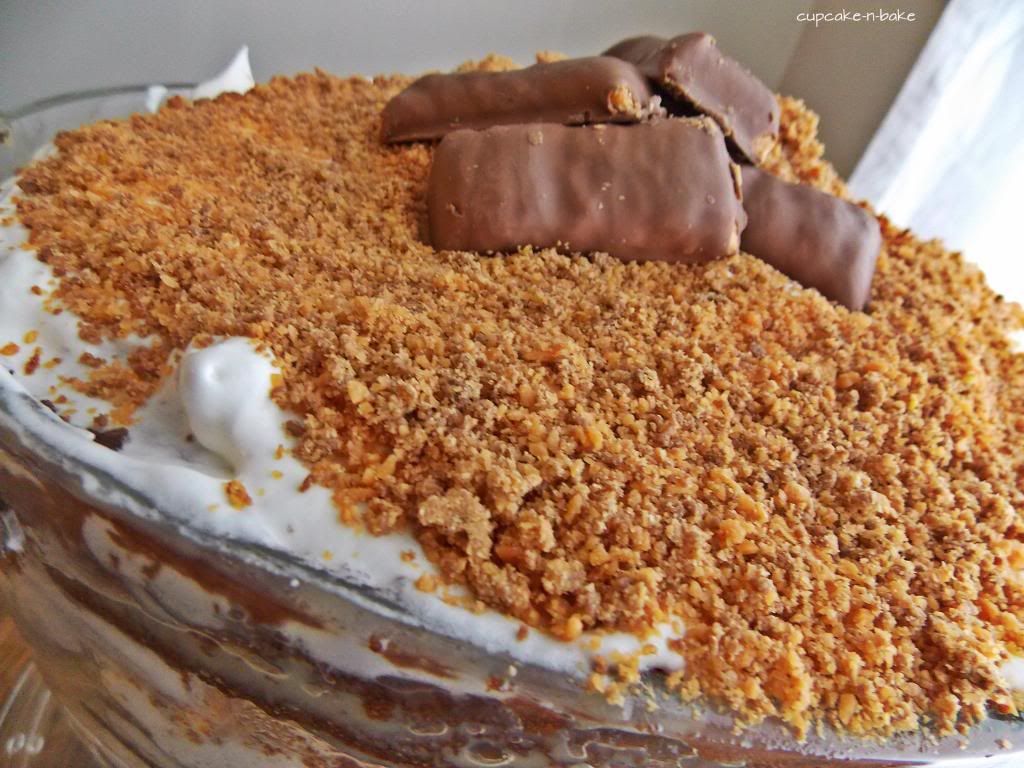 When I was younger, it seemed like a very complex cake, but recently, when I asked my aunt how to make it, I realized that it was really very simple.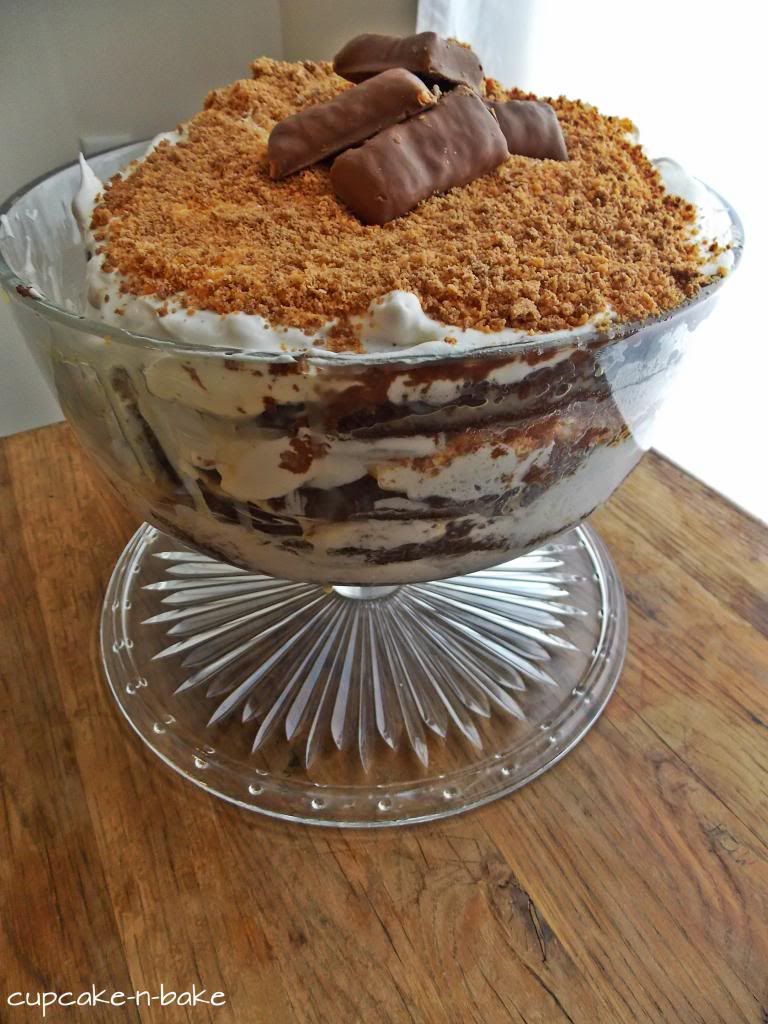 I also realized the secret ingredient that made it so delightfully gooey ;)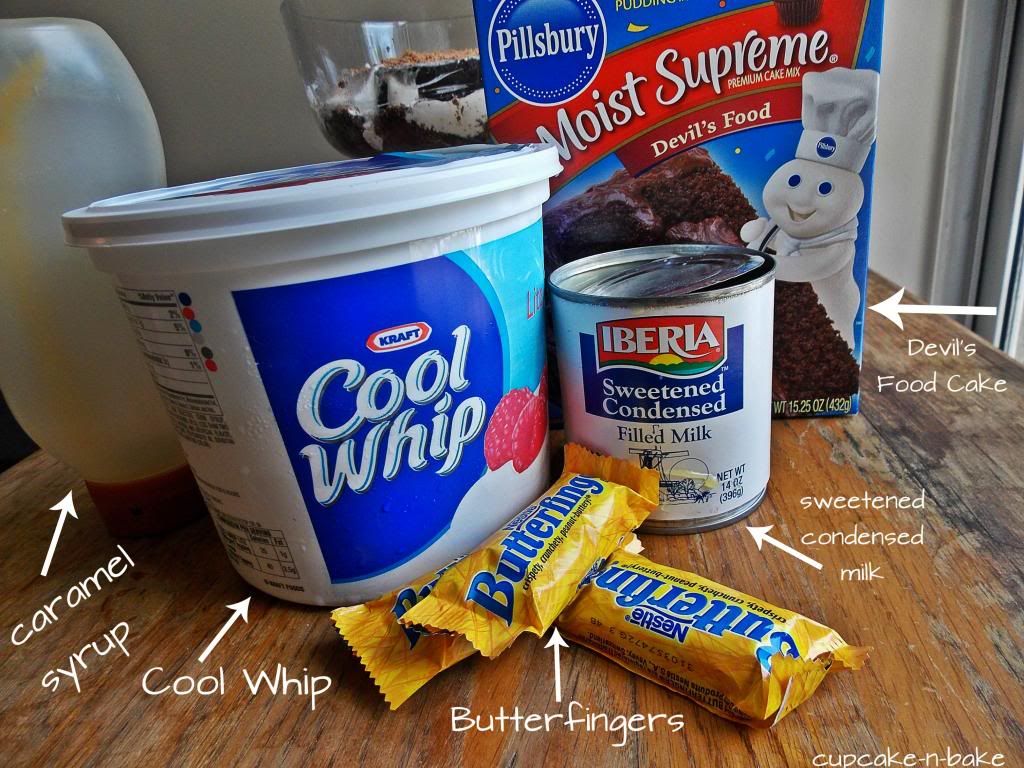 You see, you take two of the above ingredients (hint: it's the caramel and sweetened condensed milk) and combine them. Then, you coat the warm cake like so:
Wondering what I used for the holes? The end of a wooden spoon! Genius right? hehe ;)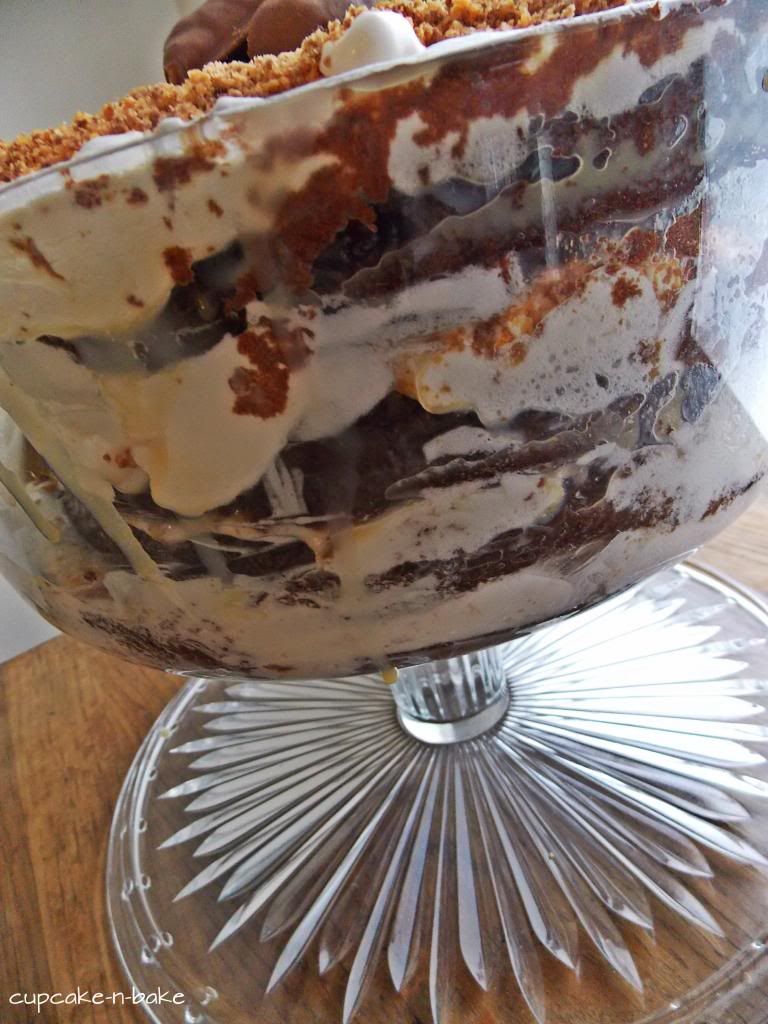 Now, this is a very large trifle, so it will feed a lot of people. Or, ya know, you could be like me and just make it out of the blue. It will last about a week if you give part of it to your husband's co-workers.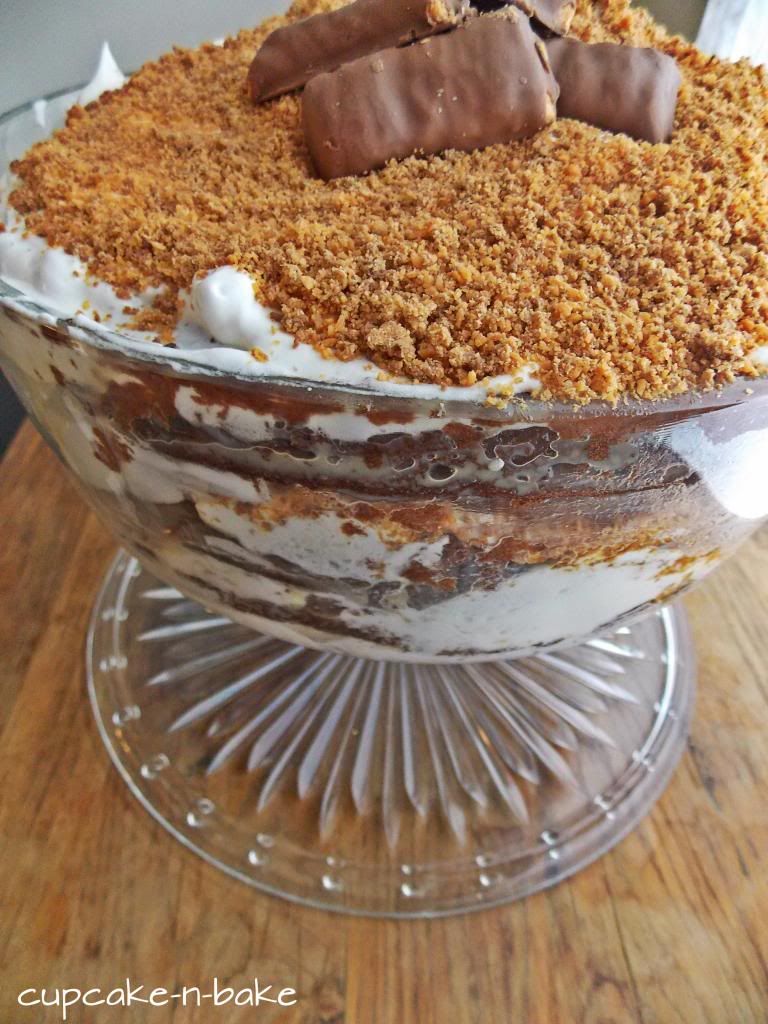 Be sure to store this in the refrigerator. You wouldn't want the Cool Whip to spoil!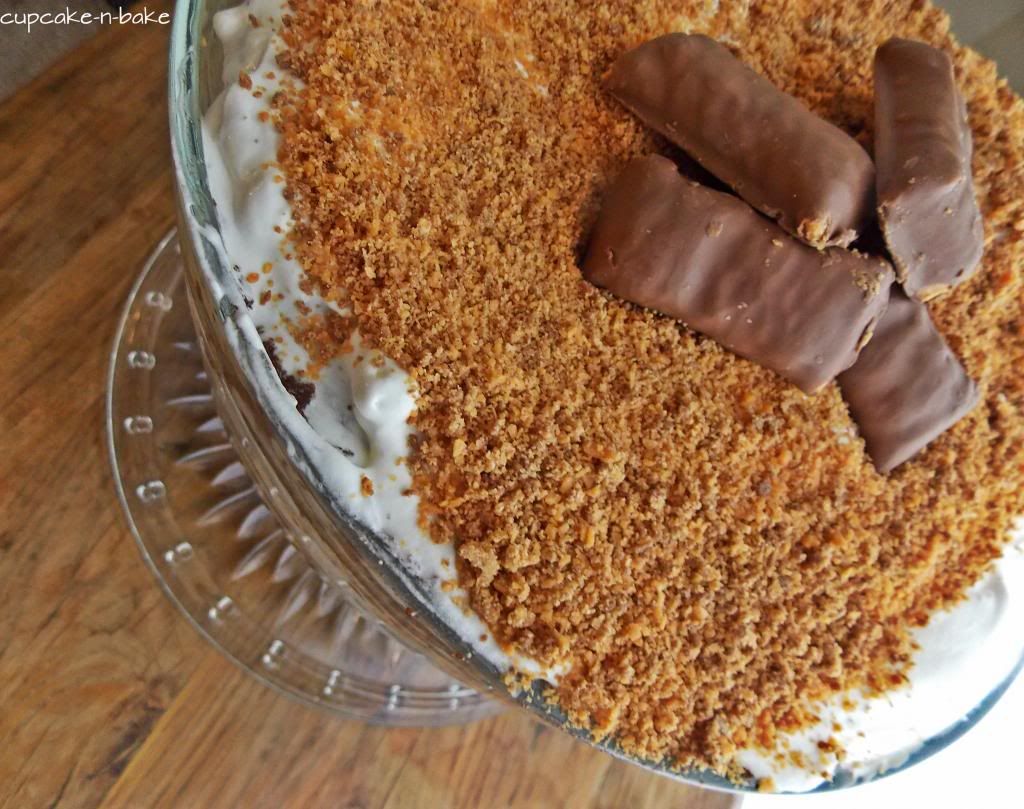 So the next time you want to take something different to a party, try this. I promise you won't be sorry ;)

Butterfinger Trifle
Keywords:
bake dessert Butterfinger candy cake American
2 boxes of Devil's Food Cake Mix (all recommended ingredients)
2 16 oz containers of Cool Whip
2 14 oz cans of sweetened condensed milk
20 oz bottle of Smuckers caramel ice cream topping
1 11.5 oz bag of Butterfingers
Instructions
Bake 1 box of Devil's Food Cake as directed on box in 2 9 inch round pans.
While cake is baking, mix together (in a small bowl) 1 can of sweetened condensed milk and 1/2 bottle of caramel syrup.
While the cake is still warm, poke holes in each layer with the end of a wooden spoon.
Pour sweetened condensed milk and caramel mixture over the still warm cake. Let the cake soak.
Repeat the above steps using the 2nd box of cake mix and the remaining syrup and condensed milk.
In a food processor, grind all but 4 of the Butterfingers.
Begin to layer the cake in a punch bowl, or deep glass bowl.
The layers consist of cake, then 1/2 container of Cool whip, and finally a dusting of Butterfinger crumbs.
After you have built all the layers of cake, top the trifle with the remaining Butterfinger crumbs.
Garnish the trifle with the four Butterfingers that you set aside.
Serve and enjoy
**Be sure to store any uneaten trifle covered in the refrigerator.**